CraftLander Pontoon Lift
CraftLander offers a cantilevering pontoon lift design specifically for pontoon boat and also a pontoon conversion kit that allows any of their vertical lifts to support a pontoon boat with ease. Both of these options lift the pontoon boat from the bottom of the deck.

Hydraulic System is positioned above the waterline and away from the dock for safety and easy access to the boat.
Specially Designed "V" Shaped Platform for Shallow water application.
NEW Ultrabunks are maintenance-free, hassle free aluminum and polyvinyl alternative to traditional wood bunks.
2 and 10 Year Limited Warranty
  Manual Boat Lift Specifications
  Model

Capacity

Beam

Bed Length

Boat Length
(up to)

Lift Weight

  32BL18

3200 lb

44″

18″

22′

290 lbs

  32BL22

3200 lb

44″

22″

25′

350 lbs

  32BL25

3200 lb

44″

25″

26′

420 lbs

  42BL25

4200 lb

44″

25″

30′

530 lbs

Models and specifications are subject to change.
Pontoon hoist bed lengths should come close to the deck length on pontoon boat.
Should take an actual measurement of pontoon deck.

Available Accessories – Bow Stop, Power Unit and Extension Legs (Deep Water Kit).
CraftLander Pontoon Conversion Kit
Also with CraftLander, you can ad a pontoon rack to any of their vertical lifts to accommodate a pontoon boat. This option allows you to ad a canopy to cover your boat.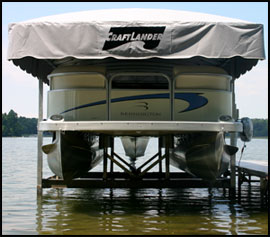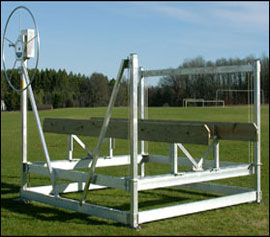 Pontoon Conversion kit easily adapts to the 2500lb capacity through the 6000lb capacity CraftLander hoists. The rack has a fully adjustable width and height.
This option allows options like load guides, canopy, power unit and other accessories to be added that may not be available on the cantilever.
Please do not hesitate to contact us with any questions or concerns you may have.
  Manual Boat Lift Specifications
  Model

Capacity

Max Beam

Lift Height

Adjust.Legs
Standard

Lift
Weight

  1684v
1600 lb
84″
60″
4-20″
315 lbs
  25108v
2500 lb
108″
52″
4-20″
325 lbs
  35108v
3500 lb
108″
64″
4-20″
430 lbs
  45108v
4500 lb
108″
64″
4-20″
460 lbs
  45114v
4500 lb
114″
64″
4-20″
470 lbs
  45120v
4500 lb
120″
64″
4-20″
475 lbs
  60120v
6000 lb
120″
60″
4-20″
620 lbs
  40120vhl High Lift
4000 lb
120″
84″
4-20″
585 lbs
  60120vhl High Lift
6000 lb
120″
84″
4-20″
735 lbs

  High Lifts are designed for the Great Lakes but can be used where needed.
Models and specifications are subject to change.

* Available Accessories – Canopy, Key FOB Remotes, Load Guides, Pontoon Conversion Kit, Motor Stop, Wheel Kit (Canopy Colors – Blue, Hunter Green, White, Tan and Gray. Special ordered colors available.)
CraftLander Boat Lift Warranty
NuCraft Metal Products warrants its lifts, excluding electric winches, to be free from defects for 2 years; 15 years on aluminum structure; caused by faulty material or poor workmanship and will at its option repair or replace without charge, provided seller is promptly notified in writing upon discovery of such defects.
Lifts or parts thereof shall not be returned to seller or modified at seller's expense without seller's express consent in writing. This warranty does not cover damage caused by over loading, improper use, installation, accident, neglect or alteration or repairs by others, damage by ice and/or acts of God.
The buyer's remedies with respect to defective goods shall be exclusively limited as above provided and in no event shall the seller be liable for consequential damages of any nature.