CraftLander PWC Lift
CraftLander manufactures three different models of PWC hoists, a vertical design for deep water, a cantilever and a dual cantilever. Each one is constructed of lightweight, marine grade aluminum. They each come standard with 20″ adjustable legs and carpeted hull bunks.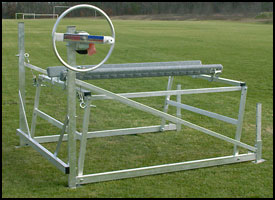 CraftLander PWC offers

Smooth operating winch allows for exact positioning of the hoist platform.
Fully Adjustable Carpeted Hull Bunks.
Light Weight Aluminum Construction.
2 and 15 Year Limited Warranty.
  Manual Boat Lift Specifications
  Model

Capacity

Beam

Bed Length

Boat Length
(up to)

Lift
Weight

  6PWC
3200 lb
44″
18′
22′
300 lbs
  32BL22
3200 lb
44″
22′
25′
360 lbs
  32BL25
3200 lb
44″
25′
26′
420 lbs
  42BL25
4200 lb
44″
25′
28′
530 lbs

Models and specifications are subject to change.

Available Accessories – Power Unit and Extension Legs.
CraftLander lifts are easy to assemble, install and remove. Please do not hesitate to contact us with any questions or concerns you may have.
CraftLander Boat Lift Warranty
NuCraft Metal Products warrants its lifts, excluding electric winches, to be free from defects for 2 years; 15 years on aluminum structure; caused by faulty material or poor workmanship and will at its option repair or replace without charge, provided seller is promptly notified in writing upon discovery of such defects.
Lifts or parts thereof shall not be returned to seller or modified at seller's expense without seller's express consent in writing. This warranty does not cover damage caused by over loading, improper use, installation, accident, neglect or alteration or repairs by others, damage by ice and/or acts of God.
The buyer's remedies with respect to defective goods shall be exclusively limited as above provided and in no event shall the seller be liable for consequential damages of any nature.