Hewitt Hydraulic Boat Lift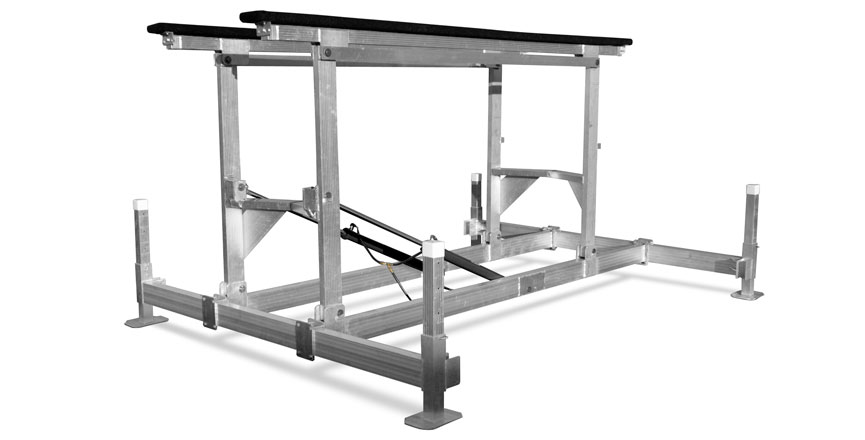 Like Hewitt Hydraulic Cantilever Lifts, these models offer the convenience of push button or wireless remote control operation. Additionally, they can raise and lower boats in seconds. You'll never hesitate to use your boat again.
The Hydraulic Lift series also offers a wider range of models with capacities from 4,400 lbs. to a massive 10,100 lbs. With optional bracing and leg kits, these lifts can be used in water up to 8′ deep. Wherever you look, you'll see unsurpassed quality and construction durability in Hewitt Hydraulic Lifts.
Corrosion-resistant aluminum frame.
Carpeted tilting bunks attached to 3″ x 3″ aluminum tube and reinforced with 3″ aluminum strap.
Extra heavy-duty, reinforced cantilever design has large "V" plates welded between lift arms to prevent swaying.
Heavy-gauge welded pivot points with stainless steel pivot pins.
Push-button control and two key-fob wireless remote controls.
Hydraulic Boat Lift Specifications

  Model

Capacity

Max Beam

Lift Height

Cylinders

Lift
Weight

  LOH445
4400 lb
114″
54″
2
522 lbs
  LOH447
4400 lb
114″
76″
2
559 lbs
  LOH61
6100 lb
114″
77.5″
2
759 lbs
  LOH81
8100 lb
132″
77.5″
4
999 lbs
  LOH101
10100 lb
132″
77.5″
4
1100 lbs

Models and specifications are subject to change.

* Available Accessories – Canopy, Load Guides, Bow Stop, (Canopy Colors – Gray, Beige, Blue, White, Green, Yellow, Orange and Teal)
All models include a locking water resistant chest that houses the hydraulic pump and control system. For DC models, the chest also provides space for housing batteries. The hydraulic system uses biodegradable hydraulic fluid that will not harm lakes or rivers. The fluid's anti-freezing properties also simplifies winter storage. A translucent fluid reservoir makes it easy to check fluid level at a glance.
Models up to the 6,100 lb. capacity are equipped with two hydraulic cylinders, while the 10,100 lb. model uses four cylinders to meet the higher load requirement. Standard cylinders have long-lasting seals designed for underwater use and hoses with water resistant covering. Optional aluminum cylinders with stainless steel shafts are available on some models.
ShoreStation Manual Boat Lift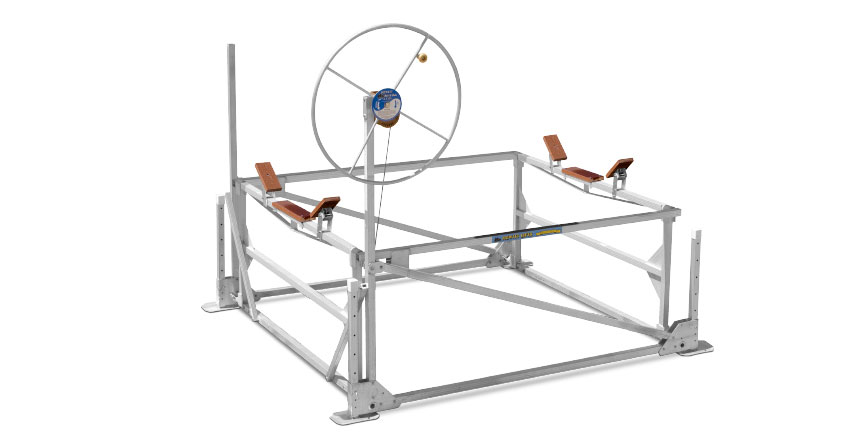 The original Hewitt Lift continues to be one of our most popular models. These rugged general purpose lifts have a natural mechanical advantage that actually makes operation easier as the boat is raised higher.
Cantilever Lifts have a long history of trouble-free performance. They require few moving parts for superior reliability and place less stress on pulleys and cables. In the lift's fully raised position, cables carry no weight, the load is entirely supported by the frame. Corrosion resistant aluminum construction also assures low maintenance – no rust, no painting.
Heavy-Duty Aluminum Construction.
Pulley assemblies are mounted in reinforced plate aluminum boxes that are welded directly to the frame.
Fewer pulleys and all parts are easily accessible for reduced maintenance.
Extra large gussets, providing greater lateral stability and overall strength.
Cantilever Boat Lift Specifications

  Model

Capacity

Max Beam

Lift Height

Overall Width &
Length

Lift
Weight

  LOA12-096
1200 lb
96″
37.5″
100″x102″
173 lbs
  LOA118-96
1800 lb
96″
37.5″
100″x102″
226 lbs
  LOA18-106
1800 lb
106″
37.5″
110″x102″
264 lbs
  LOA24-106
2400 lb
106″
37″
110″x102″
289 lbs
  LOA24-115X102 W
2400 lb
115″
37″
120″x102″
293 lbs
  LOA24-115X151 WL
2400 lb
115″
37″
120″x151″
327 lbs
  LOA30-104
3000 lb
104″
37″
110″x109″
348 lbs
  LOA30-113X109 W
3000 lb
113″
37″
120″x109″
369 lbs
  LOA30-113X151 WL
3000 lb
113″
37″
120″x151″
386 lbs
  LOA36-104
3600 lb
104″
37″
110″x109″
376 lbs
  LOA36-113X109 W
3600 lb
113″
37″
120″x109″
396 lbs
  LOA36-113X151 WL
3600 lb
113″
37″
120″x151″
414 lbs
  LOA42-114
4200 lb
114″
37″
120″x127″
470 lbs
  LOA48-114
4800 lb
114″
37″
120″x127″
610 lbs

W-Wide Lift   WL-Wide and Long Body Lift
Models and specifications are subject to change.

* Available Accessories – Canopy, Power Units, Load Guides, Motor Stop, Wheels and brackets.
Gray, teal, orange, yellow, green, white blue and beige.
Actual colors may vary some depending on your monitor.
Hewitt Boat Lift Warranty
New HEWITT-built boat and pontoon lifts carry a 15 year conditional warranty on all aluminum and aluminum welds.

5 year conditional warranty on boat port galvanized steel and welds.

15 year conditional warranty on boat port polyethylene tanks.

5 year conditional warranty on canvases, excluding fading.
HEWITT Machine and Manufacturing, Inc. further warrants all other parts used on HEWITT-built lifts and accessories, purchased new by original owner, to be free from defects in the material and workmanship under normal use for a period of 24 months from the date of purchase (excluding components and options which carry their own manufacturer's warranty, wherein that warranty will apply.) Warranty is void when misuse or neglect is the cause. Specifications are subject to change without notice. THIS WARRANTY IS VALID ONLY IN THE UNITED STATES AND CANADA FOR PRODUCTS USED FOR FRESH WATER. HEWITT PRODUCTS ARE NOT INTENDED FOR SALT WATER (with the exception of BoatPorts).
To view complete warranty, click here.