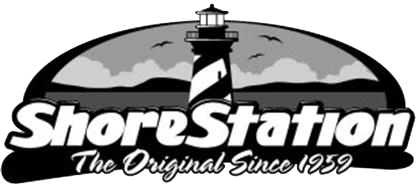 ShoreStation Freestanding Dock
Since 1959 the ShoreStation name has stood for top quality hoist and dock systems. That proud tradition continues today with innovative products like our new line of ShoreStation Aluminum Dock. Whether you choose the 2′, 4′, 6′ or 8′ wide sections, all ShoreStation Dock offers good looks and exceptional stability.
All ShoreStation Dock hardware and component parts are constructed of the highest quality materials, from the galvanized steel leg frames to the stainless steel cotter keys, everything is designed with durability in mind. The legs frames are designed with an A-Frame stance which provides a wider base for a level of stability and safety you will not find with ordinary docks.
ShoreStation Dock comes in-
Nostalgic Cedar
Aluminum with Cedar Sideboards
Aluminum with Boat-Friendly
Polyvinyl Sideboards
2′, 4′, 6′ and 8′ widths
  ShoreStation Dock Systems
  Model

Length

Width

Depth

Weight
4′ width

Rolling Available

  All Cedar
8′
4′ 6′ 8′
1″ to12′
106 lbs
No
  Aluminum w/Cedar Sides
8′
2′ 4′ 6′ 8′
1″ to12′
92 lbs
No
  Aluminum w/Poly Sides
8′
2′ 4′ 6′ 8′
1″ to12′
92 lbs
Yes

  Models and specifications are subject to change.
Cedar Bench
Swivel Chair
Flag Pole
Dock Bumper
Stairs
Swim Ladder
Dock Light and more….
Your dock has to be able to grow and adapt to fit your lifestyle. The modular design of ShoreStation Dock gives you the versatility to rearrange your sections and create different layouts from season to season. Add sections and new accessories as you go.
The wide variety of accessories makes it easy to get creative and customize your layout . From functional items like lights, stairs, bumpers, benches and chairs, to decorative accents such as flagpoles – they're all designed to look right, fit right and work right.
Please contact us with any other questions or concerns you may have about the ShoreStation Dock systems.
ShoreStation Warranty
2 year Basic Limited Warranty which covers every Midwest supplied part on your Genuine ShoreStation Dock, with the exception of wood.
10 year Fabricated Frame and Extrusion Warranty which covers parts and components of your dock frame and support. This includes the dock cross member weldment, latch handle assembly, leg frame assembly, leg extension and aluminum deck planks.
1 year Basic Limited Warranty for all dock accessories.