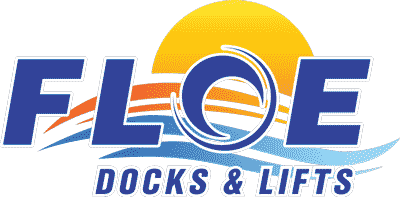 Gorgeous shorefront appeal
Rock solid stability
Easiest to level
Modular design
Easiest to install and remove
For 33 years, FLOE's quality and innovation have been and continue to be the benchmark for the dock and boat lift industry
Effortlessly level each dock section independently from the top with a cordless drill or FLOE's leveling tool.
"Topside" aluminum screw-jack system on each wheel kit versus one leveling system at the end of the dock with mid-section support posts
If one wheel drops into a hole or sinks into the mud, it can easily be leveled
Eliminates having to lift and level the heavy mid-section of a boat dock that uses potentially dangerous and unsightly support posts
Screw-jacks also eliminate winches, broken cables and binding pipes found on other docks
Topside adjustment hole is neatly finished with a flat plastic cap
Links modular dock sections together versus hard bolting.
Quickly add or disconnect sections.
Can be added anywhere to make it easy to create custom dock configurations such as slips.
Disconnected dock sections can be moved independently to make installation and removal easy.

In the "Locked" position dock sections are held securely in place and close together.
In the "Transport" position dock sections have a gap so they can pivot. This allows multiple sections to be pulled in and out of the water with ease.
Floe International Warranty
FLOE INTERNATIONAL, INC. will repair or replace, at their option, any portion of the dock system which fails as a result of a defect in material or workmanship during the first two years after the date of purchase. Items purchased by FLOE INTERNATIONAL, INC. are warranted by the original manufacturer and warranty is extended only to the original retail purchaser. FLOE INTERNATIONAL, INC. reserves the right to inspect and perform repairs at its main facility (F.O.B.) McGregor, Minnesota. This full two-year warranty includes parts and labor on the dock system and accessories including the following: Aluminum frame structure, dock paint, wheel kits, leg kits, leg bracing, support poles, quick-connects, flagpole, benches, furniture, kayak/canoe rack, ladders and bumpers. Labor charges and mileage are covered within 40 miles from FLOE or the authorized FLOE dealership performing the repairs. Additional mileage/travel charges will apply if travel over 40 miles is required. If this charge applies, it is determined by the repairing dealer and must be paid by the customer to the dealer performing the repairs. Warranty does not cover damage, including broken welds, caused by improper installation or removal, or any damage of any sort caused by the use of power equipment.