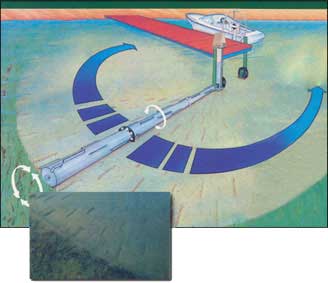 Tired of unsightly weeds mucking up the water around the beach area of your lake home? No doubt you have tried using chemicals and back breaking water rakes, even hiring a costly harvesting service, only to have the weeds return next season. Now imagine eliminating those troublesome weeds once and for all with the revolutionary Crary WeedRoller! The WeedRollers breakthrough pivot design slowly rolls along the bottom, detaching weeds from the soil and agitating the lake bed. The weeds can then be quickly gathered and disposed.
Ready for install kit includes:
Drivehead
21-ft. roller with 1 coupler
Power converter with 6-ft.
main power cord
Universal dock hardware, for support legs of 2″ diameter or less
70-ft. power cord (from converter to power head)
Smart Switch
Rollers are equipped with a flexible coupler at the head and between the seven and fourteen foot lengths. An optional coupler can be installed within the fourteen foot assembly to provide additional flexibility. The couplers allow contouring to variations in the lake bottom. Standard hardware package mounts to docks with support legs of 2″ diameter or less (square or round).
One Dock Mounting Kit (right) is standard with the Weedroller. Use additional dock mounting hardware to easily move the WeedRoller from one location to another.
Optional is the Tripod Mounting Kit for mounting the WeedRoller on shore without a dock or other structure.
Mud Paddle
For extreme mud and muck conditions. It acts as a large paddle on the end roller to lift, providing traction in the mud. Remove buoy after the WeedRoller has worked down to firmer lake bottom.
Deep Water Extension Kit
Two foot extension kit to increase the maximum water depth of standard unit from 4-1/2 feet to 6-1/2 feet. Up to two extensions can be added per Weedroller.
Side Post Mounting
This mount kit is for docks with no posts on the ends for mounting the standard dock mounts. Kit mounts flat on the side plates of the dock.
Flex Coupler
Flex coupler assembly for replacement, or to add between the two 7 foot lengths of the 14 foot roller assembly. Provides flexibility between rollers to contour to lake bottom.
Operating Depth – 4 1/2-ft. at the power head. Can be increased in 2 1/2-ft. increments (maximum of 2 kits).
Operating Circumference – Adjustable to more than 270° arc with 21-ft. reach. Slope-10° for each flexible joint.
Electrical – Power converter: 8 amp circuit breaker on 28-volt AC side. 110-volt household current converted to 28-volt AC through power converter. Note: Power use during operation is comparable to a common household light bulb.
Mounting – Round dock posts, square dock posts, optional tripod mounting kit.
Drive Assembly – Includes Smart Switch with microprocessor.
Motor – Produces 1/8 HP.
Roller Tubes – Made of 6″ diameter aluminum.
Environmental – WeedRoller has been approved by most state environmental agencies. Specific approval or permits may be required. Always follow state and local regulations when using your WeedRoller. Gather and properly dispose of weeds that are removed upon initial use.
MICHIGAN A permit under the Inland Lakes and Streams Act is required to place and use the WeedRoller. The Michigan DNR applies the WeedRoller under an "Expedited Letter Process" for minor activities may be permitted without field inspection or public notice. Processing time is normally less than 30 days. Contact The State Permit Consolidation Unit at 517-373-9244.