Roll-A-Dock is simply the fastest and easiest way to get full enjoyment from your waterfront property. In cold climates, there's no need to endure frigid water – just roll it in and you're ready for action. Roll-A-Dock is ideally suited to gradual slopes and works equally well on soft or rocky bottoms. A basic dock can be easily placed with a vehicle or installed in a matter of minutes by as few as two people.
A built-in winch with removable hand crank allows quick height adjustment for different depths or changing water levels. Adjustments are easily made without ever stepping into the water. Standard Model adjusts from 2-1⁄2′ to 5-1⁄2′. Deep Water Kit adjusts from 2-1⁄2′ to 8′.
Double Bracing
Roll-A-Dock's unique "V" type bracing reduces the clear span on a 32′ dock to only 21′. This design gives the wheel assembly superior strength both front and rear and assures maximum stability on soft or rocky bottoms.
Winch Operation
The height adjusting winch is operated with a removable hand crank that is inserted in an opening in the deck surface. Height adjustments can be made while standing on the deck.
Inboard Mounted Winch and Cable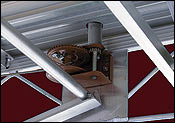 The height adjusting winch and cable is located inside the dock frame for greater safety. There are no exposed parts to snag – nothing to damage your boat when you pull alongside.
Double Strength Connections
With Roll-A-Dock's exclusive connecting system, there is no loss of strength, even at the joints. The integrity of this design makes it possible to have a steel frame dock up to 32′ in length that requires no extra supports.
Bridged Framework
The Roll-A-Dock tapered frame incorporates design principles proven in bridge and rafter construction. This design provides maximum strength with a minimum of weight. The open sides of the frame also improve stability by reducing wave resistance.
Hewitt Dock Warranty
New HEWITT-built docks, with the exception of floating docks and rafts, carry a 15-year conditional warranty on all aluminum and aluminum welds.

Aluminum decking (excluding paint) is covered by a separate 5-year conditional warranty.
HEWITT Machine and Manufacturing, Inc. further warrants all other parts used on HEWITT-built lifts and accessories, purchased new by original owner, to be free from defects in the material and workmanship under normal use for a period of 24 months from the date of purchase (excluding components and options which carry their own manufacturer's warranty, wherein that warranty will apply.) Warranty is void when misuse or neglect is the cause. Specifications are subject to change without notice. THIS WARRANTY IS VALID ONLY IN THE UNITED STATES AND CANADA FOR PRODUCTS USED FOR FRESH WATER. HEWITT PRODUCTS ARE NOT INTENDED FOR SALT WATER (with the exception of BoatPorts).
To view complete warranty, click here.