LSP Pontoon Lift
The simplest and least expensive way to secure and protect your pontoon boat when you can't be there. Just crank your boat out of the water, install your mooring cover and walk away. No more sleepless nights. This solution is ideal if you use your lift on the weekends and are away during the week. LSP (Lakeshore Products) makes one of the the strongest, most dependable, and easiest to use Cantilever Pontoon Lifts in the industry to keep your boat safe while you aren't around.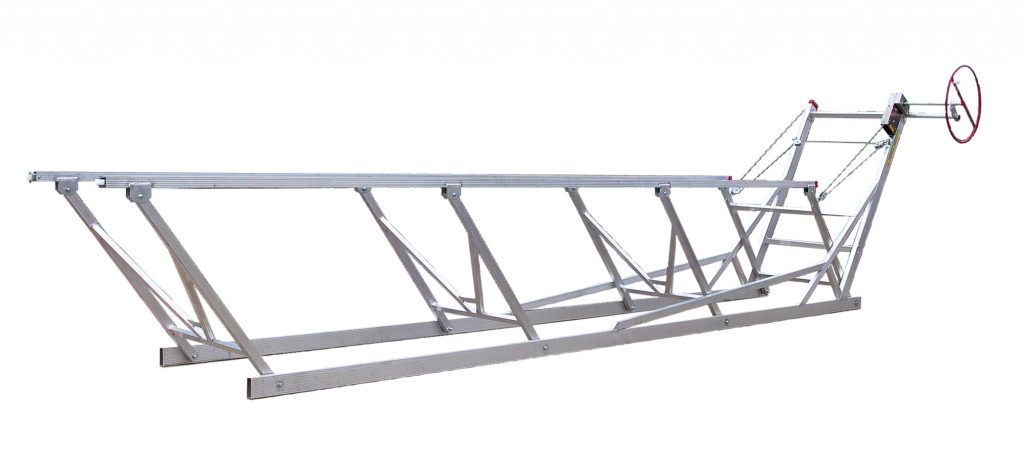 Welded Aluminum Construction makes this unit easy to assemble, lightweight and will not rust!
Welded Aluminum Bushings.
Full Length Cradles.
Non marking rollers gently guide your boat onto the lift.
  Pontoon Lift Specifications
  Model

Capacity

Beam

Lift Height

Cradle
Length

Lift
Weight

  LSP16H
2600 lb
44″
60″
16′
290 lbs
  LSP21H
3600 lb
44″
60″
21′
350 lbs
  LSP24H
3600 lb
44″
60″
24′
370 lbs
  LSP28H
3600 lb
44″
60″
28′
410 lbs

Models and specifications are subject to change.

Additional engineered bracing makes the LSP Pontoon Lift one of the strongest you can buy and reduces the flex you get with most pontoon lifts.

The heavy duty winch has greater strength and dependability than lightweight "trailer" type winches that other manufacturers use. The new design allows the winch to be positioned on either side of the lift.
Lakeshore Warranty
LSP, Inc. (Seller) warrants the aluminum structure on docks and lifts of its manufacture to be free from defects caused by faulty material or poor workmanship for 10 years. Seller will, at its option, repair or replace any such goods found on examination by Seller, to be defective under normal use and service within ten years from date of purchase. Upon discovery of any such defect, Buyer must notify Seller in writing of defect and provide proof of purchase. Seller warrants cast aluminum parts, mechanical components, and hardware for two years.
Seller shall not be held responsible for repairs or modifications to its docks or lifts unless authorization has been obtained from Seller. This warranty does not cover damage caused by incorrect assembly or adjustments, overloading, improper use, neglected maintenance, alterations, or damage caused by accident, ice, salt water or act of God.
Components obtained from other manufactures and used in Seller's products will be covered under the manufacturer's warranty and shall not be the responsibility of the Seller.
Seller's responsibility under this warranty shall be the repair or replacement of defective items. Seller is not liable for incidental or consequential damages of any kind.