Kids and adults alike have a great place to lounge on or leap from with a ShoreMaster Swim Raft. Both your shoreline and your enjoyment are enhanced when you add a ShoreMaster Swim Raft to the experience.
Choose from two models, both providing the sturdy construction and handsome styling that makes ShoreMaster the popular choice.
Large 7.5′ by 9.5′ non-skid deck surface
3000-pound capacity
Polystyrene core
3-step ladder and corner reflectors
Available in gray or yellow
Three-year limited warranty
Yellow in Stock
Otter Island Polyethylene Swim Raft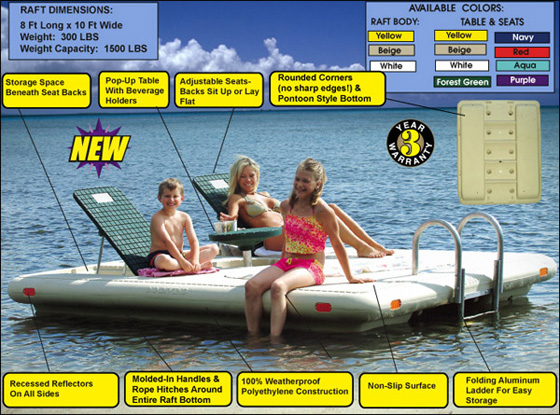 This summer….escape, to Otter Island! Our 8 x 10 Ft water & swim raft is the perfect summer-long vacation for the kids, grandkids, or a relaxing vacation for any adult. Loaded with incredible features, Otter Island blows away any other raft on the market!
Optional Accessory:
Raft Anchor
The Otter Raft Anchor is a safe, do-it-yourself option to your typical store bought anchor.
Made of 100% high-density polyethylene, just fill it with sand and this 140 LB anchor will keep your raft where you want it.
Environmentally safe, with no sharp corners to cause injury to anyone. Works with any swim raft.